These events have taken place for 2023, but please join us next year.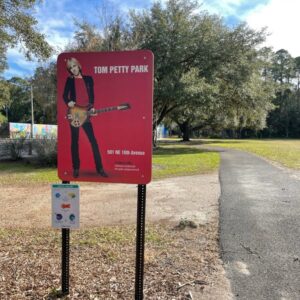 Day 2. Sunday, February 19, Tom Petty Park
501 NE 16th Ave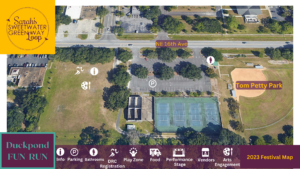 9am FREE FUN RUN + WALK!

Explore three of the northern neighborhoods on the Sweetwater Loop – including Duckpond, Grove Street, and Pleasant Street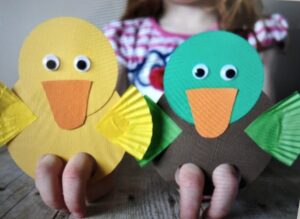 Day 4. Sunday, February 19, Roper Park
401 NE 2nd St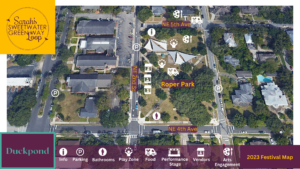 All day:

LIVE MUSIC by Don "Mr. Fiddlesticks" Austin, Mama Trish & Becky Baby
FOOD by Working Class Culinary
ATMOSPHERE PERFORMANCE by Dragon Box Theatre (puppets, stiltwalking)
FREE USE MATERIALS on Roper Park Lawn (sidewalk chalk, hula hoops, bubbles, cornhole)
GROUP ACTIVITIES by Activity Leaders Alex and Lacy (Games, art, music, dance, parachute and kids' crafts) all day
Cotton Candy and Hokey Pokey on the Music Porch!
BOUNCE HOUSE and face painting by O2B Kids!
VENDORS – various local artists
HISTORIC and ENVIRONMENTAL information and displays by Cultural Arts Coalition's Environmental Ambassadors

10am, 11am, 12pm, 1pm Historic and Environmental Tour (on the hour, leaving from and returning to Roper Park)

Route:  East on NE 5th Street to the NE Blvd / South to NE 2nd Ave / West to 3rd Street / North to NE 5th Avenue, to Roper Park

11am Nia Dance + Movement with Sarit Sela
11:45-12:15pm "Duck Hunt" Bike Parade + Walking Tour to Duckpond and Thelma Boltin

(East on NE 5th Ave, South on NE Blvd to loop around Boltin, NE 4th Ave to return to park)
Bring your wagons, strollers, bikes, or just your feet!